Our premises are certified green offices by WWF – Pakistan. We have achieved this through a commitment to reduction in paper and energy consumption along with water conservation.
Our Current recycling proportion is 80% and with the help of our waste segregation system is expected  to improve at a  rate of 10% yearly.
Our LEED Platinum factory has allows us to reduce carbon footprint to half , in contrast, to increase in production by 25%.
The implementation of green purchase policy has been achieved since August'16.
We have implemented color bin waste segregation system and and reduced our waste generation by 35%.
We  have reduced our energy consumption by 20% as of December '20,  in contrast to increased production by 25%.
Healthier and safer for our people
Fully air-conditioned environment, designed at 24°C with continuous fresh-air induction
Subsidized meals upholding food safety standards at in-house canteen for complete staff of 6000+ employees
Fully sprinklered facility with completely automated fire and smoke detection and control system, including positively pressurized stairwells, voice evacuation and smoke suction systems
Complete CCTV system managed through a central Building Management System for employee safety
Roof gardens and basement courtyards for peace of mind and fresh environment
 C2C – Design for Purpose
The future meets nature as scientists and designers work together to design new materials. The design industry is striving to be more sustainable and consumers are starting favor products that are made to last.Fast fashion continues to lose ground to conscious consumerism as millennial and Gen Z customers base their buying decision on brand reputation. Conservational awareness of raw materials is creating a new emphasis on natural artifacts with the art world, now filtering through the luxury retail arena and harnessing reactions at a directional mainstream level.
Water Stewardship  Policy
Our goal is to promote progressive water stewardship – within our company and at the community level – which includes taking responsibility for the well being of water resources and instituting effective conservation and sustainability efforts within residences and factories. Read more..
AWS Certification Report Unit 2-3
SUSTAINABLE PROCESSING
SUSTAINABILITY IN LAUNDRY
Complete sustainable production with the help of following infrastructure.
– Jeanologia Laser Machines
– VAV Laser Machines
– G2 Ozone Machines
– E-Flow Machines
– Tonello Up Machines
– Green Screen Chemicals
– Environmental Impact Measuring Software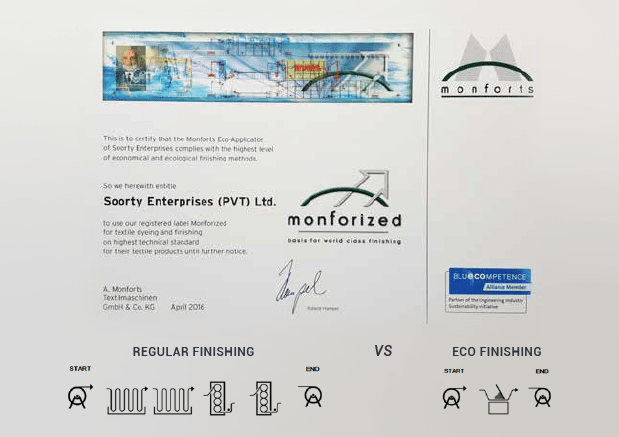 SUSTAINABLE PROCESSING
As part of our philosophy of continuous improvement, Soorty re-imagined the use of Monfort's Eco-applicator by engineering it to integrate in the fabric finishing process. The result of this innovation is shown above.
HIGGS INDEX
We at Soorty, always endeavor for sustainable growth and plan our efforts subsequently. Following our vision, we have strived for sustainable augmentation of HIGG Score and have planned to raise our combined score (Social & Environment) up to 75% by 2020. We aim to achieve this milestone through refining our focus towards Energy Conservation, Water Management, Waste Management, Chemical Management, Worker Involvement, Worker Treatment, Transparency and Value Chain Performance.